Our Venues were chosen as the top "35 places to start dreaming about for 2017" in Getaway Magazine. They have also been featured in numerous other publications in South Africa.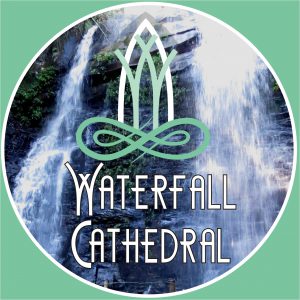 Waterfall Cathedral @ Hogrock Falls
Set in the forest, this pristine waterfall is like Nature's own outdoor Cathedral ….the perfect backdrop for your fairy-tale Wedding Ceremony.  A wooden platform serves as an elevated chancel for the Wedding Couple and Marriage Officiant, and guests are seated on wooden benches & chairs – with a glorious view of the wedding party and waterfall.
The property, Hogrock Falls, is easy to access (on the main road) and has off-street parking available.  The waterfall is situated in a magnificent natural krans which is accessed by a short pathway.  It is a gentle walk of less than 100m, with a few stairs, making it one of the most accessible waterfalls in Hogsback. Older guests are assisted where necessary. The Waterfall Barn can be made available in case of rain.
Ask about our meaningful and unique Water Ceremony, where the theme of the wedding service is centered around the water – a very special and intimate touch.
Waterfall Forest
Forest weddings are a lovely country wedding trend, and so Waterfall Forest offers a giant tree as the backdrop for the wedding ceremony.  Guests are seated between the trees on benches on the terraced slope with an unobstructed view of the wedding ceremony.  Some couples have chosen to host their ceremony in the forest, have their canapes at the Waterfall, and then their receptions in the barn.
Hogrock Falls property also offers two stunning self-catering Cottages that are perfect for the Wedding Couple to get ready in and for a private Honeymoon Retreat. Also ideal for private engagements & Anniversary getaways.
Waterfall Barn
Set above the waterfall, this charming rustic barn epitomises a classic Country Wedding and is inspired by Hogsback's natural beauty.  With views of the valley, dam and forest and the gentle sounds of the waterfall close by. The timber interior has crystal chandeliers and fairy-lights which add to the fairy-tale atmosphere.  There is a small bar and lounge with a fireplace for chilly evenings, and the large doors open out onto a covered veranda and the pretty forest view above the waterfall. Lovely country decor available for hire to complete the picture – wooden signs, bunting,  lanterns, crates, barrels and candelabras etc. The Barn is a wonderful option for larger ceremonies (seating up to 120 ppl) and can accommodate smaller to medium sized receptions (20 to +- 90* guests), *please consult us for more information.
The Edge Mountain Retreat
The Edge Mountain Retreat in Hogsback is surrounded by cliffs, dramatic views and indigenous forest – complementing the pristine, natural environment which Hogsback offers.
We offer a variety of Venue & Accommodation options to suit your requirements.
The Vula Vista Venue

Our Vula Vista Venue has a spectacular view over the garden, the labyrinth the Tyhume Valley and for a 100 miles beyond! This venue can cater for up to 80 seated guests. Or up to 110 if use is also made of our deck which can be enclosed. If a dancing area is required inside, then the venue can seat approximately 60 guests, The enclosed deck can also be used as a dance area in which case the venue seats 80.  The venue is light and spacious and it has a large log fireplace, ample ventilation and dimmable lighting. There is a separate bar and buffet area. The venue has a lovely wooden deck which can be enclosed with canvas blinds. Steps lead down to a terraced lawn.
Our Labyrinth is one of the largest in the world, and couples sometimes choose to use it as part of their wedding ceremony.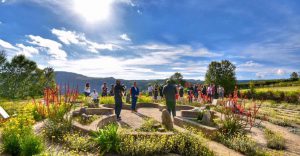 The Courtyard is partly covered by the rustic, tin-barn styled pizza-area. It flows out from the restaurant and pub and there is also an elevated verandah/deck that is perfect for use as a stage.  A lovely setting for small weddings (seats 40 max) informal rehearsal dinners, engagement parties and fire-pit evenings or braais. Please note that the floor is gravel.
The Restaurant has a cosy, informal bar and dining area where guests can relax around a log fire-place.  There is also a lovely covered deck with a garden & mountain view.  Why not make your destination wedding more of an experience with our Build-a-Burger evenings, Pizza-and-Wine pairings and champagne breakfasts.
The Edge offers a range of Accommodation options (75 pax) for individuals, families and groups, including self-catering(some perched on the edge of the cliff) and bed-and-breakfast rooms, all set in 15 acres of beautiful cool climate gardens. We offer our guests space, quiet and restfulness…the perfect opportunity to arrange a weekend of memorable fun with your wedding guests.